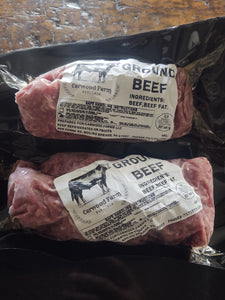 Carwood Farm, LLC.
9-10 lbs. Monthly Carwood Burger Bundles
Regular price
$67.86
$67.86
Everyone loves, Carwood Burger.  
IF THE MONTHLY BEEF BUNDLES SHOW ON OUR WEBSITE AS "SOLD OUT", PLEASE EMAIL COREY@CARWOOD.FARM OR CALL/TEXT 717-773-1360, and we will put you on the list to be contacted when one comes available.  
Get 10 vacuum sealed packages of burger/month for $61.75/month.  Each package weighs 1 - 1.25 lbs.   
Pick-up will take place during our monthly " Bundle" pick-up on the 4th Friday & Saturday of every month at the farm, 595 Forge Rd. Boiling Springs.  Burger packs will be in freezers.  Signage will direct you when you pull in the driveway, so you know where to go.  Bring your own bag or we provide you with a bag.  Count out ten 1 lbs. burger packs, put them in your bag and you're on your way.  Quick and easy!  We send reminder emails leading up to the pick-up days describing how the pick-up works and provide any special information pertaining to the month.  
Questions?  Visit our FAQ's page